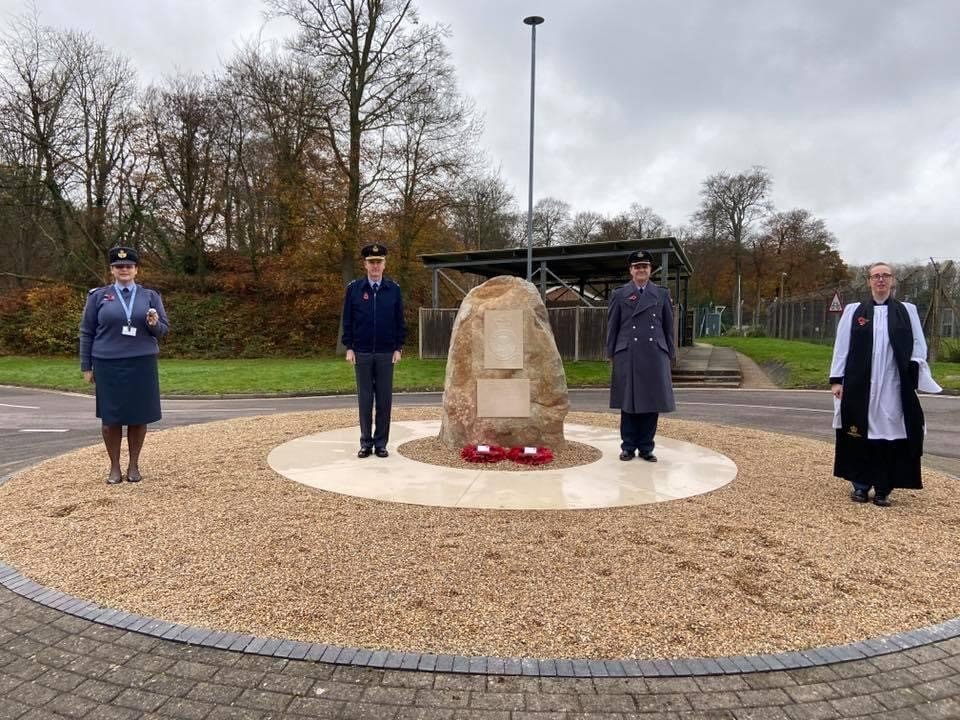 Coulon Stone are delighted to receive a letter from RAF High Wycombe thanking them for all their "hard work and commitment" when fitting a beautiful memorial in time for Remembrance Day 2020.
The memorial is made from a sarsen stone. These ancient blocks of sandstone are typically found across southern England, in particular Wiltshire, Berkshire, Oxfordshire and Buckinghamshire, and are the remains of a glacier that swept across the area 66 million years ago. The countries most famous sarsen stones can be found at Stonehenge.
The sarsen stone used for this memorial was uncovered at RAF High Wycombe whilst digging on the grounds. Coulon Stone collected the sarsen stone and bought it back to their factory in Stokenchurch where they cut away sections and made some inserts using a limestone called Portland Stone, another British rock quarried in Portland, Dorset.
Coulon Stone partnered with Matt Cook of Martin Cook Studios who hand carved the RAF High Wycombe Crest, along with script including lines from Laurence Binyon's famous remembrance poem, For The Fallen, "At the going down of the sun and in the morning We will remember them."
Coulon Stone prepared the groundworks for where the memorial now sits and lay a limestone path around the memorial where people can gather to pay their respects, and admire the craftsmanship that went in to creating the memorial.  The finished memorial was then delivered and gently placed in position using a crane.
A scaled back remembrance ceremony was held at the memorial on Remembrance Day 2020 with plans for larger ceremonies to take place for years to come.
Coulon Stone have been involved in creating memorials, statues and restoration projects locally in Buckinghamshire and Oxfordshire, as well as further afield in London, and beyond for 30 years. Previous projects include a statue of footballer Tony 'Bomber' Brown at West Bromwich Football Stadium, a memorial at RAF Northolt and the restoration of Holy Trinity Church in Bledlow.
If you're thinking of adding a stone memorial or statue to a space, or need some restoration work done to a stone surface, no project is too big or small, so please get in touch with Coulon Stone using the contact details here.
Coulon Stone are following all government guidelines regarding COVID19 and for the safety of staff and customers all visits to the showroom are by appointment only.