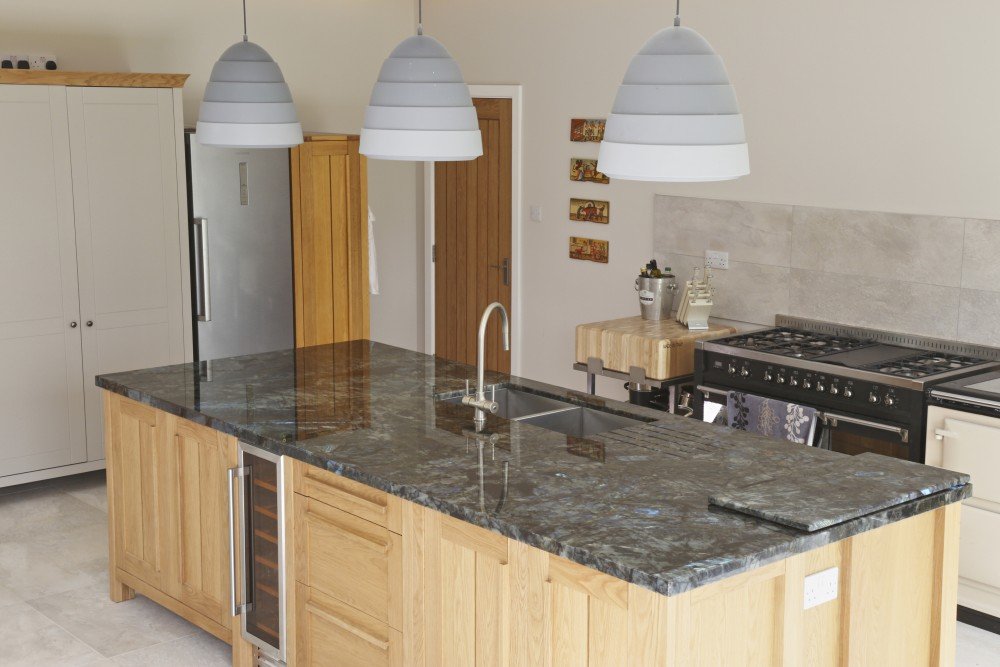 The kitchen is the hub of the home; a place for cooking and conversation, eating and entertaining. As such, upgrading the kitchen can have a positive impact on how you live, as well as adding to the value of your property.
Replacing kitchen worktops is one way to modernise the space functionally and aesthetically. Worktops have to endure regular use and can be subject to hot pans, spills, sharp blades and more. As well as durable, they need to be kept clean and hygienic, so a smooth finish is desirable.
Natural granite kitchen worktops tick all of the boxes, but how easy are they to maintain?
Kitchen Worktop Materials
Kitchen worktops can be made from a wide range of materials, but granite remains a highly desirable choice. We will look at the advantages of granite in this article, but first, let's consider the alternatives:
Laminate – the budget option, this is a practical solution, but will need replacing after 10 -15 years
Wood – adds a warming tone to the kitchen, but requires maintenance to keep it looking great
Stainless Steel – used in professional kitchens as it is hardwearing and hygienic, but it does scratch
Composite Stone – a blend of quartz crystals and binder to form a durable 'engineered stone'
Quartzite – a natural material with unique patterns and a light, glossy finish
Marble – the luxury option, but this natural stone needs care to avoid staining and scratching
Slate – offers a dark, rustic look, however, can be marked by liquids, particularly oils
Limestone – a natural material with muted colours, but needs care to avoid stains and scratches
What are the Advantages of Granite Kitchen Worktops?
The reason that granite is a popular choice is that it has many of the advantages of the other options, without the drawbacks.
It is tough and practical, requires minimal maintenance and looks impressive. Granite is a quality product and as such, it can elevate the kitchen. Its timeless quality enables it to work in both period properties and contemporary builds.
Granite is a natural material, with variations in veining, colour and pattern. The finish is usually glossy, with certain elements catching the light and these features that add interest to the kitchen design.
As well as looking the part, granite is a hard material, which is heat and scratch-resistant. It can withstand high temperatures and water spills and is very unlikely to stain. The exception is acidic spills, but prompt action will remove any marks.
It can be kept clean by wiping down with a soft, microfibre cloth and mild detergent and the quality of the granite will not deteriorate. Your new kitchen worktop can still look as good as when it was installed in 100 years!
This brings us on to our next question.
Are Granite Worktops Expensive?
There are many different types of granite, so the price varies between £200 and £500/square meter. The quote will also depend on the size of your kitchen counters and whether you decide to have other items to match. These can include a kitchen island, window sills and splashbacks.
Whilst granite is not a cheap option, consider it as a long-term investment. With minimal maintenance, it will outlive 10 replacement laminate worktops or more. This means that you get incredible value from your purchase.
Granite Worktop Installation
One of the installation team will visit your property to undertake templating. This is an accurately measured plan which allows the granite to be cut to fit the exact dimensions of your kitchen. Hobs, sinks and other features can be cut out as part of the design.
Professional installers will lift and handle the granite correctly, fit it accurately in position and achieve tight joins. When in position the granite worktop is cleaned and a sealant is applied. This final step adds to the natural resilience of the stone.
Once the sealant has had sufficient time to dry, the worktops are ready to use. To enhance longevity, it is advised that once a decade, a fresh finish of sealant is applied.
When you are comparing quotes, make sure that professional installation is covered within the price. This is not a job to be carried out by a DIY enthusiast.
Inspiration for Kitchen Design
As experienced stonemasons, Coulon Stone has upgraded many kitchen interiors over the past 30 years. We can transform your interior with new worktops and splashbacks. For inspiration, take a look at our Kitchen Gallery and Pinterest kitchen page to view images of recent projects.
We can also arrange appointment-only visits to our stone showroom in Stokenchurch, Buckinghamshire. If you have any questions, please get in touch on 01494 484333 or info@coulonstone.com.