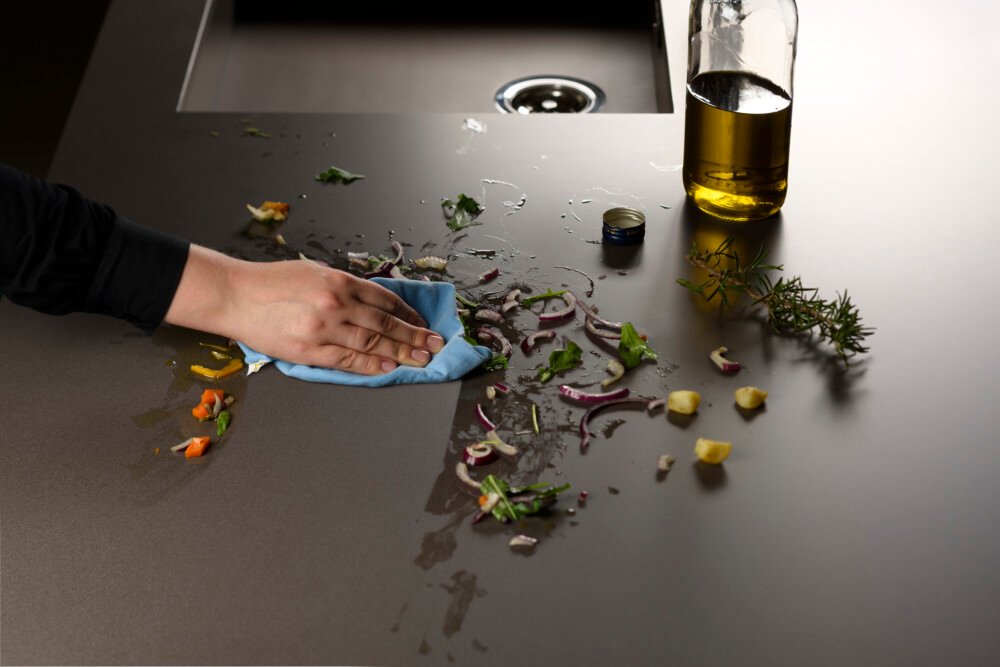 Stone surfaces which make cleaning quicker
With most of us spending more time at home than ever before, we're finding ourselves constantly cleaning. This may have left you looking around your house wishing certain parts were easier to keep clean. This might include the kitchen worktop. We're preparing more food at home, the washing up never ends and we're wiping the worktops every few hours – so it would be nice to have a surface with built in hygiene qualities that takes just seconds to clean. Well, below are some natural and man-made stone surfaces that are just that!
Granite
When picking a natural material to use as your kitchen worktop, granite is by far the most superior choice, particularly in regards to hygiene and maintenance. Made from molten rock compressed over millions of years its non-porous properties act as a shield against germs which can be easily and quickly wiped away with disinfectant. Granite is particularly effective against bacteria if re-sealed every few years. Whereas wood, another popular natural surface material, which expands and contracts due to changes in temperature and humidity is porous, therefore making it difficult to get rid of all the bacteria trapped on its surface.
Lapitec
Lapitec, photographed at the top of the page, is the hardest surface material on the market. It's a man-made stone created by firing minerals at over 1200◦C, giving it a similar chemistry to granite but with increased durability. It's completely non-porous therefore resistant to staining, mould and bacteria. It's also resistant to acids so the surface can't be worn away by acidic foods and chemicals, including cleaning products like bleach.
Composite Quartz
Composite quartz surfaces are made up of 90% natural quartz making them extremely hard. Similarly to granite their almost completely non-porous making them a great choice for busy kitchens as germs can be easily wiped away. Composite quartz surfaces are popular because of the huge variety in design choice.