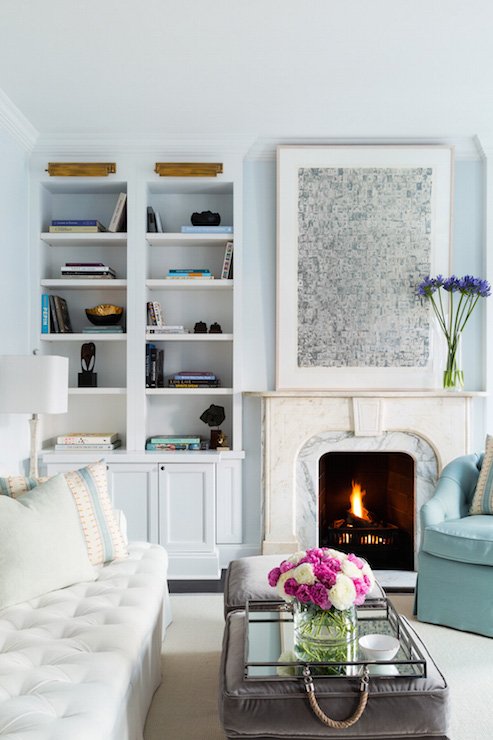 Updating Your Fireplace? Ideas to Inspire You.
Does your fireplace inspire you to curl up all cosy on a cold winter night? Does your fireplace create a serene space to unwind at the end of a long day? Does your fireplace make Christmas extra special hung with stockings and garlands? If your fireplace does none of these maybe it's time to think about making some changes, and we have some ideas which use natural stones like marbles and granites to take your fireplace from dull to focal point this winter.
Arched
Typically fireplace surrounds tend to be squarer in shape, maybe with some curved or smooth details. However arched marble or limestone fireplaces were popular in the UK in the Victorian era. This example of an arched fireplace in Carrara marble is softened by the grey brick inlay, compared to the typical cast iron insert which would have been used during the 19th century. We think it's beautiful, incredibly elegant and perfectly pairs traditional design with a modern twist. For an elevated look replace the grey brick with herringbone style slips in Jura Blue limestone.
All White
An all-white fire surround will both warm and brighten your room. We love the one pictured which uses both a white Portuguese limestone with a Carrara marble insert and hearth. The mix of materials, along with the detailed surround and sleek insert is another example of both traditional and modern design working perfectly alongside each other. The fireplace is crisp, chic and show-stopping. It would work well amongst a light, neutral palette as in the photo, but could also be part of a bright and colourful scheme.
Sleek Black
Contrasting with the light and bright fireplaces of above is another favourite of ours, sleek black fireplaces. Whilst the one pictured, made from black granite, looks simple there are some small details which makes it look incredibly elegant. We love that the hearth is flush with the natural wood floor, it suggests the fire surround is part of the bricks and mortar of the house, it has always been there. We also love the floating mantel above which is made from the same material. The whole set-up creates a modern farmhouse look.
If you're looking for more fireplace inspiration visit our Instagram (@coulonstoneltd) and Pinterest (@coulonstone) pages, and our website where as well as our gallery you'll also find information on our news page about where to begin and what things you need to think about when deciding to update your fireplace.